Congratulations!
Congratulations on your acceptance to the University of Pennsylvania and Penn GSE! We are excited to welcome you to our next class. The resources and information on this page are designed to assist you as you prepare for and begin your time here at Penn.
Welcome Letter From the Assistant Dean for Student Services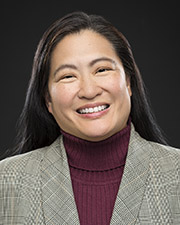 Penn GSE has the advantage of being a small school nestled within a large university. While Penn consists of 10,000 graduate students from 12 schools on campus, GSE consists of 1,000 students with over 20 areas of specialization. So while our students have the benefit of studying in an interdisciplinary environment with a variety of world class campus resources (such as the Graduate Student Center, Career Services, and the Weingarten Learning Resources Center), they also enjoy personal attention and support from faculty and staff that simply would not occur in a larger setting.
Each year, we tell our incoming students that our role at GSE is to provide a supportive, nurturing environment for them to pursue their academic goals. From orientation to commencement, we take that responsibility seriously and count on our close relationships with students, alumni, and faculty to make our students' experiences fulfilling and meaningful. 
GSE students have a variety of opportunities to have an impact on the life of the school. Some examples include serving on school committees, in leadership positions in GSE Student Government or student organizations, or as representatives to the Penn Graduate and Professional Student Assembly (GAPSA). Students who like to participate in supportive roles find a wide array of social, cultural, and academic programs and events to attend. Actually there is so much happening both at GSE — and at Penn — that our students' dilemma is how to choose from among the abundance of options available throughout the semester. 
At Penn GSE, we are committed to achieving a more diverse and inclusive community of learners. GSE is intellectually exciting, of course — but we think you'll find your student experience to be challenging and inspiring as well. Please stop by my office in Room 225 to share your suggestions and concerns about how we might improve your experience. If you prefer, you can reach me at atiao@gse.upenn.edu. 
I look forward to meeting you in person.
Ann Tiao, Ph.D.
Assistant Dean for Student Services
Penn GSE
---
Incoming Student Checklist 
As you prepare to join the Penn GSE community, here are the key steps you'll need to take for a successful start to your studies. Please refer to your offer of admission and communications from Penn and your program manager for important updates and deadlines. 
---
Final Academic Documentation 
Submit final and official documentation for all degree coursework with an "Awaiting" status on your Enrollment Checklist. All documentation should show final grades for coursework completed and degrees conferred, if applicable. Documentation can be sent directly to the Admissions Office via e-copy at admissions@gse.upenn.edu or by mail at 3700 Walnut Street, Philadelphia, PA 19104.
For Institutions in the United States - Request an official transcript directly from the Registrar's Office.
For institutions outside the United States - Request to have your final transcripts evaluated by a current member of the National Association of Credential Evaluations Services. Most evaluators offer the option to "upgrade" your initial evaluation with the final degree documents.
---