Penn GSE Expansion
In Spring 2022, GSE will begin construction on a dramatic building expansion that will fulfill Dean Grossman's vision of "One Penn GSE," bringing the majority of the School's programs, students, faculty, and program staff into one state-of-the-art building in the heart of the Penn campus. 
The School's central building at 3700 Walnut Street will be merged with nearby Stiteler Hall via a three-story addition that will provide a new entry to GSE from the 37th Street Walk and make Stiteler Hall fully ADA accessible.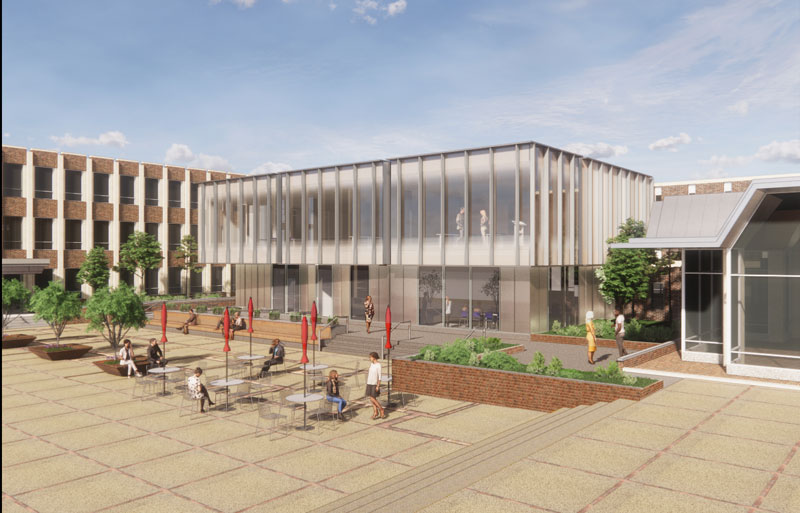 The two-story courtyard addition will house 3 large, flexible classrooms, a new makerspace, innovation studio, and a multimedia lab.
Construction News & Updates
For the latest construction news, read the September 2022 Expansion Update.
For more details on construction timeframe, closures, and anticipated impacts on students, staff, and faculty, visit the Penn GSE Expansion FAQ page. 
Expansion Updates Archive
As the academic year comes to a close, our construction team is moving into high gear with the GSE Expansion project. This first phase includes the heavy demolition and excavation needed to prepare for the new additions. Please see below for a summary of some of the changes you will see this summer.
Exterior
The Social Science parking garage is closed as of May 13th.
Starting the week of May 23rd, the construction fencing will expand to encompass the east side of GSE, the stairs between the GSE and Stiteler buildings and a majority of the plaza. Everything within the fencing will be the construction zone and off-limits to pedestrians or building occupants.
Stiteler
Beginning May 23rd, the Stiteler north stair will be closed to make room for the new Stiteler elevator. Stiteler can be accessed by the main entrance off 37th street walk.
On the lower level, a temporary wall will be installed outside classrooms B21/B26 to limit access north of these rooms.
On the upper level, a temporary wall will be installed between office 223 and offices 246/248. Rooms to the north of this wall will be part of the construction zone and are off limits.
In mid-to-late June, sprinklers will be installed in the south end of Stiteler second floor. The open cubicles and offices in this area cannot be occupied during the sprinkler work. Further communication to follow when we have more exact dates.
GSE
Beginning May 23rd, the east exit from the GSE to 37th street walk will be closed. Occupants can still use the east stairwell but will need to exit through the lobby onto Walnut street.
In June, scaffolding will be erected over the GSE Walnut street entrance. The entrance and lobby will continue normal operations.
Thank you for your patience as we embark on this transformative project. Any questions or concerns can be directed to Greg Tausz at tauszg@upenn.edu.